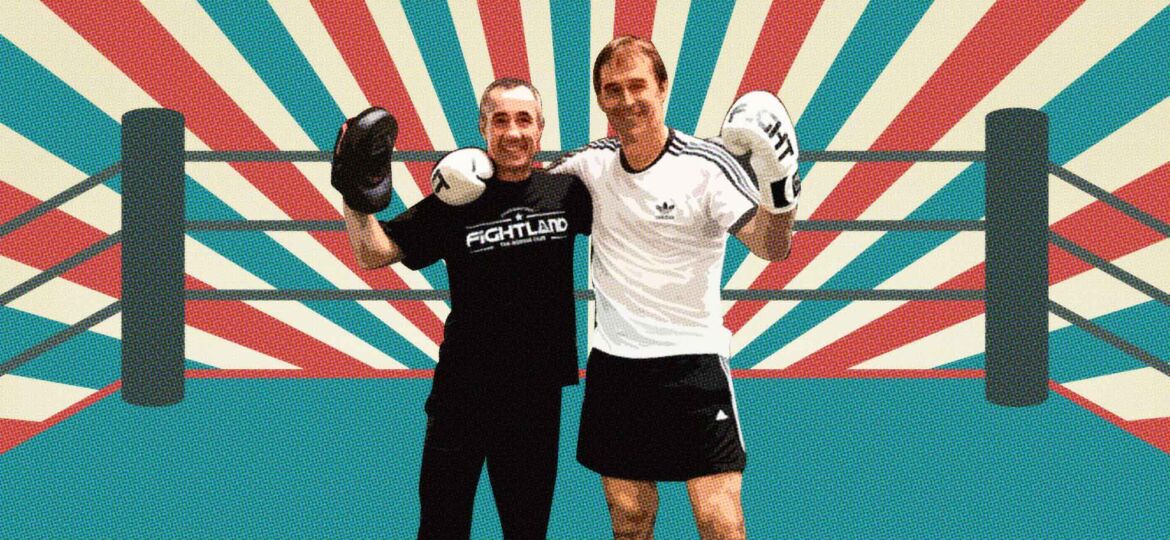 It is well known that boxing is one of the greatest methods as a sport for reducing stress, tension and aggressiveness. It is a tool that helps us channel our energy and competitiveness; likewise, it helps to increase reaction capacity, focus, confidence and optimize our physical condition. And Julen Lopetegui knows about this.
This great method was chosen by the former Real Madrid coach, to help him get back after being release as the head of the "merengues" bench.
After a month of being under the radar, Lopetegui reappeared in the world of sports, but this time, in a boxing ring. Just a few weeks after the catastrophic result of 5-1, in which his team fell against Barcelona, ​​and which ended up costing him his work, Julen needed help to heal those wounds.
The Spaniard was seen in an Instagram video of José Luis Serrano Valerio, former boxer two-time champion of Spain and 5 times champion of the community of Madrid. Based in the description, it is clear that Julen uses his free time to take boxing lessons. His coach wrote: "Strength is superfluous. Now we have to work on his technique".
https://www.instagram.com/p/BqeHAyiAYmU/?igshid=1n9djw0wpzpeu
Serrano had an admirable record with 114 bouts and 102 victories. Along with César Barbosa he opened his boxing chain: Fightland. The GYM is classified as a «White Collar Boxing" GYM also known as executive boxing or contactless boxing.
This is the type of boxing practiced by the current Sevilla coach, who surely has the story of his father in mind during each training session. His father could have been one of the best boxers in Spain.
A bright future?
Julen is a descendant of a renowned family of "harrijasotzailes» (stone lifters), known as the "Agerre". His father, José Antonio Lopetegui (Agerre II), optimized the training regime, carrying out a better and harder training than usual.
Even Real Sociedad players could not keep up with him in races held in San Sebastián. After the death of his older brother, José Antonio established himself as the benchmark lifter in the Basque Country in the late 1970s, managing to move stones weighing up to 200 kilos.
Vicente Gil, president of the Spanish Boxing Federation, of the European Boxing Union and personal doctor of Francisco Franco, went in search of the next Paulino Uzcudun.
It was Gil's surprise that the Basque Country had not produced a renowned new heavyweight, but he also hoped that with some technical training, a prominent athlete from the area could become a professional boxer.
 The doctor sent an emissary to recruit José Antonio, who promised that he would earn large amounts of money and gain fame shortly. With a 2-year-old Julen Lopetegui, José Antonio declined the offer in order to continue with the family cider house, where promoter Miguel Almazor traveled to.
The emissary left surprised by the decision of who was considered the ideal athlete to enter the world of boxing. As a second option, he recruited José Manuel Ibar, who agreed to put on his gloves.
Weeks later, who would be known as Urtain, made his professional debut at Ordizia, against opposite Tony Rodri, whom he knocked out in 17 seconds. The Urtain legend was born that day.
The father of the ex-coach of the Spanish team could have occupied that position. Who to this day, maintains the record of 22 lifts of a stone weighing more than 100 kilograms per minute.
Julen Lopetegui is a boxing fan, largely because of the influence Urtain had on his childhood, but there is no one he admires more than his own father.
By: Mario Badillo / @n7mariobadillo